Hvem kan si hva en ulv egentlig tenker og føler når den dreper titalls eller hundretalls sau uten å spise opp en eneste en? At det for hundedyr er lystbetont å jakte og å lykkes i jakten er udiskutabelt, men lystmorder er kanskje et sterkt uttrykk?
Argumentene fra f.eks. Naturvernforbundet er at ulven noen ganger driver med "overskuddsdreping", eller "surplus killing" på engelsk. "Hønsehussyndromet" (fra rev) blir også brukt, og henspeiler på hvordan rovdyr kan ta livet av en rekke eller en mengde bytter og deretter lagrer eller bare forlater byttene for å vende tilbake senere.
Overskuddsdreping gjort av ulv

Nesten 300 sau og lam er tatt av ulv på Hadeland, Toten og Hurdal. Mandag 7. august ble ulven felt ved Bergsund på Østre Toten.
- Dagbladet 23. august 2017

On 17 June, we found 34 calves killed by wolves (Canis lupus), clumped in a 3-km2 area. The calves had been killed apparently within minutes of each other and about 24 h before being found. Wolves had not fed on 17 of the carcasses and had only partially eaten the other 17.
- Frank L. Miller, , Anne Gunn, and , Eric Broughton

Idaho's Lolo Elk Zone has a plethora of wolves – too many, in fact, for the under 2,000 elk that live there to thrive.
-  The Lewiston Tribune mars 2019

The meadows and forests near our home contained about 120 blacktail deer and half a dozen large male black bears. In winter came some 60 to 80 trumpeter swans, large flocks of Canada geese, widgeons, mallards, and green-winged teal. Pheasants and ruffed grouse were not uncommon. In the fall of 1995 I saw one track of a lone wolf. Then in January 1999 my son and I tracked a pair of wolves in the snow. A pack arrived that summer. Within three months not a deer was to be seen, or tracked, in these meadows–even during the rut.
- Dr Valerius Geist, etolog og Professor Emeritus på University of Calgary

In many cases, predators will kill with the intent to eat, but in this case, something triggered, and they went crazy, and just took down each elk, and moved onto the next.
- John Lund, regional wildlife supervisor for the Wyoming Game and Fish Department

20 sauer er drept eller skadet av ulv i Rendalen i Hedmark i helga.
- NRK juni 2018

Bønder fikk erstatning for 840 drepte sauer. Én svensk ulvetispe sto bak.
- Aftenposten, februar 2018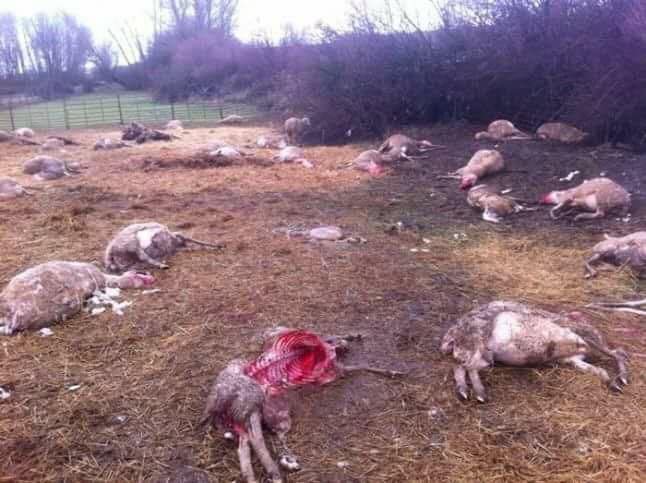 "Oltre 100 pecore morte": Over hundre sauer drept etter ulveangrep.
- ilResto del Carlino, januar 2019

Det er en katastrofe for beitenæringa.
- Fungerende ordfører i Rendalen Svein Kjetil Bjørnseth, august 2016 til NRK

~20'000 sheep, ~12'000 goat, ~2000 cattle, ~2000 horses/mules/donkeys; probably only 25% gets reported [2006-2009 average])
- Petra Kaczensky, Guillaume Chapron, Manuela von Arx, Djuro Huber, Henrik Andrén, og John Linnell

Det var et trist syn som møtte meg. Det så nesten ut som en slakteplass her. Flere sauer sto helt apatiske. Det var helt forferdelig å se blikkene deres. De ba nesten om å slippe.
- Våler-ordfører Reidar Kaabbel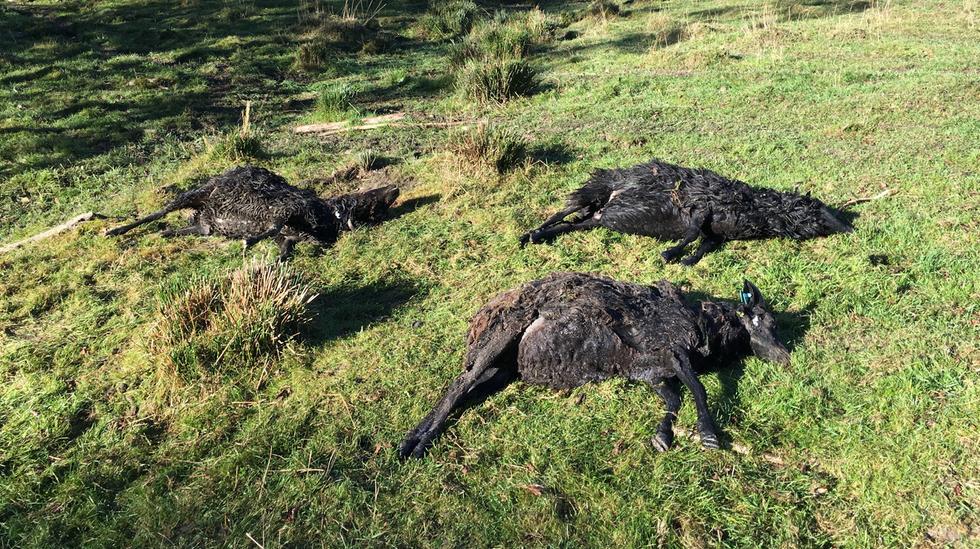 Er det lystbetont?
Når hundedyr generelt og også ulv jakter er det lystbetont. Det kan man se på hvordan de oppfører seg i jakten, på kroppsspråk og samspill.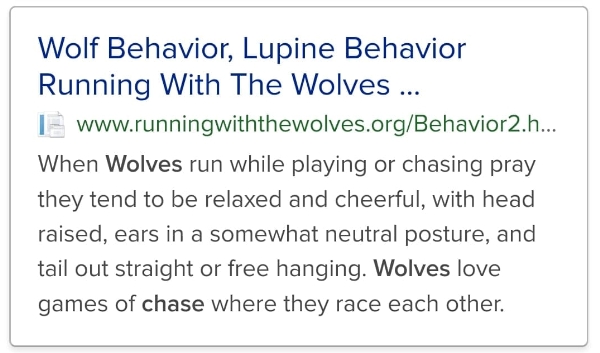 Dogs chase and attack sheep for fun.
- Craig Richardson - Animal Care Specialist/OMAFRA

The dogs are usually well fed at home, so most kills are not made because the dogs are hungry, but rather instinct and frenzy.
- Lonnie Brown, Colorado Division of Wildlife

During the chase, dogs with a high chase drive experience a rush of pleasure on the same level as that derived in the human population from the drug ecstasy. Chasers become more enthusiastic, more addicted, and more proficient every time they chase. Chasing is self rewarding behaviour.
- Sue Harper, dog trainer
Selv om hundedyr kan være mette så jakter de likevel fordi det er lystbetont. Om du vil bruke ordet "lystmorder" eller ikke, jakt er en glede for hundedyr som ulv.
Referanser:
Surplus killing as exemplified by wolf predation on newborn caribou
Ulven på Hadeland har kostet minst 9 millioner
Idaho wolves killed to help struggling elk herd
The Future of North American Wolves
Wolves kill 19 elk in suspected 'surplus kill' 
Bønder fikk erstatning for 840 drepte sauer. Én svensk ulvetispe sto bak.  
Ascoli, lupi nell'ovile. Oltre 100 pecore morte
Status, management and distribution of large carnivores 
Running With The Wolves, Wolf Information &Awareness Center, "Wolf Behavior" Part II 
Må hente hjem 2000 sauer etter ulveangrep
Våler-ordfører Reidar Kaabbel utsatt for ulveangrep