Alle rovdyr over en viss størrelse er farlige for mennesker. Ulv er ikke et unntak. Det er uansvarlig å underslå at ulv kan angripe mennesker. I gjennomsnitt blir ti mennesker drept av ulv hvert år.
Eksempler:
Is the fear of wolves justified? A fennoscandian perspective
We were able to find records of people being killed by wolves from all three countries: one from Norway, 16 from Sweden, and 77 from Finland.
The vast majority of victims were children under the age of 12. All the attacks were predatory in nature, as opposed to those done by rabid wolves.
Wolf attacks on humans: an update for 2002–2020
Det er et stort behov for å lære mer om adferden til «fryktløse» ulver («bold wolves») og forstå når en harmløs grad av tilvenning til mennesker (som er nødvendig for å leve i menneskedominerte landskap) kan føre til potensielt farlig adferd.
Ekspert: Ulven vil angribe mennesker
hvis ulve får lov at slå sig ned i Danmark, så er det kun et spørgsmål om tid, før de vil angribe mennesker
Det som skulle være en koselig luftetur endte i en kamp på liv og død for Thrond Stenberg og hans lille boardercollivalp Cesar.
21 norrmän dödade i omtalade vargangrepp
I sin rapport Rädslan för vargen – en tvärvetenskaplig utredning redovisar vargforskarna John Linell och Tore Bjerke 21 dödliga vargattacker som skedde i Norge före år 1900.
Wolves Kill Two Women In Tajikistan
Wolves have killed two women in eastern Tajikistan, prompting complaints from residents that they have been unable to defend themselves against wolf attacks since local authorities confiscated their hunting rifles.
Wolves attacked child in Finland
A 7-year-old boy was seriously injured when wolves attacked him at Ähtäri zoo. The child had been visiting the attraction in Western Finland with his family when suddenly a wolf lunged at him through a fence.
Woman killed in wolf attack at Kolmården
News Agency TT reports that there are eight wolves in the pack and it is not known which one made the first attack
The Wolves of Turku were a trio of man-eating wolves which in 1880/81 killed 22 children in Turku, Finland. The average age of the victims of these wolves was 5.9 years.
Man dödad av vargflock, Ryssland
En vargflock gick till angrepp mot en grupp människor i republiken Ingusjetien, norr om Georgien.
Gysingevargen var en ulv som drepte ni barn og ei voksen kvinne i Sverige
The fear of wolves: A review of wolf attacks on humans (NINA)
The victims of predatory attacks tend to be mainly children, and to a lesser extent adult women
Kyrkböcker verifierar vargens mörkaste tid i Finland
Förteckningen nedan är en sammanställning av 175 registrerade vargangrepp med dödlig utgång i Finland 
Wolves killed Alaska teacher in 2010, state says
Butler said wolf DNA that was recovered from Berner's clothing matched DNA from wolves later shot in the area. 
'They are absolutely huge:' Wolves attack in Northern Saskatchewan as animals lose fear of humans
An adult gray wolf can easily bite through even the thickest moose bones; a fleshy human neck provides little obstacle.
Äldre kvinna uppäten av varg, Ryssland
Den brittiska nyhetstjänsten Mirror uppger att en kvinna nyligen dödats av varg i centrala Ryssland. Enligt uppgift påträffades resterna av 77-åriga Lima Ankudinova, knappt femtio meter från hemmet. Kvinnans ena ben var helt uppätet och det andra delvis uppätet. 
Wolf attack in Bieszczady confirmed by scientists
Two weeks earlier the same wolf had attacked a tourist.
The Patterns of Wolf Attacks on Humans
We analyzed 483 wolf attacks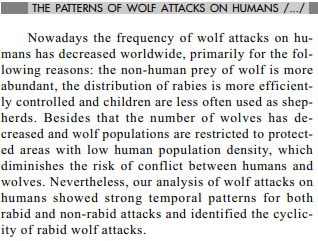 Så blev barn offer för vargattacker
Av 221 barn utsatta för varganfall dog 73,4 procent. Vuxna människor mötte det tragiska ödet mycket mer sällan, bara i 13,5 procent. Alltså bara 26,6 procent av barnen och 86,5 procent av de vuxna överlevde.
Ten Attacks in Four Months: Brazen Wolves Preying on Children in Israel's South
She heard her screaming and saw her on the ground with the wolf on top of her.
Remember When This Man Fought Off an Attacking Wolf in a Moment of Self-Defense?
An Ontario man recently survived a life threatening wild wolf attack by stabbing the hungry canine to death.
killed between 60 and 100 adults and children and injured more than 30
Romania to kill bears, wolves after rise in attacks
Romania on Monday said it would kill or relocate 140 bears and 97 wolves following a rise in the number of attacks on humans, sparking outrage from animal rights groups.
Bjørn og ulv som dødsårsak i norske kyrkjebøker
Kyrkjeboka, også kalla ministerialboka, er ei viktig samtidskjelde.
Pemar, 6 oktober: Vargen jagade tre barn som vallade boskap på en äng, uppnådde det yngsta, en flicka om 3 à 4 år, vid gärdet, slök hennes inälvor och sprang bort.
Wolf attacks people in Raichur, 10 injured
Rundt 150 mennesker angripes av ulv i India hvert år, ca tre i uken.
Hva mener forskere?

Vi må slutte å si at ulver ikke kan være farlig for mennesker.
- John D.C. Linnell ved Norsk institutt for naturforskning (NINA)

Wolves can become exceedingly dangerous to people under the appropriate circumstances, and the tale about little Red Riding hood was based – alas – not on myth or superstitions, but on sound evidence! The inability of scientists to deal with historical scholarship is here partially to blame.
- Dr Valerius Geist, Professor Emeritus of Environmental Science, The University of Calgary 
Andre referanser og lister:
When Do Wolves Become Dangerous To Humans?
Rovdyrforsker: Ulv er ikke ufarlig